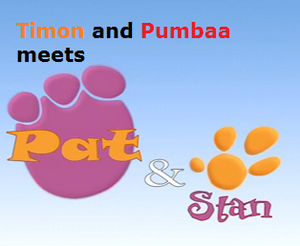 Chapter 5 is the fifth chapter of Timon and Pumbaa meets Pat & Stan by MarioFan65.
This chapter is called "Meeting Friends Part 1".
Plot
(When Pat and Stan get off on Pumbaa's back, they meet Timon)
Pat and Stan: Hi Timon.
Timon: Hello everybody and it is good to see you.
Pat: Timon, it's you and do you know something?
Timon: About what?
Pat: Those impostors you have.
Timon: I do not have impostors and my enemies are Pimon and Tumbaa. They are my evil friends and we have to stop them.
Pumbaa: But we already defeat them and now we have new friends.
Stan: Yeah Timon and what will you do?
Timon: Well guys, if Simba comes, he will meet you.
Pat: YIKES! That tough lion is gonna eat us like Scar.
Timon: Pat, calm down and we already defeated Scar and his pride. Simba will be good friends with you.
Pat: *worried* BUT I DON'T WANT TO BE EATEN BY A LION!
Stan: Pat anyways, you sang "The Lion Sleeps Tonight" and now, why do you hate lions?
Pat: Because, they want to eat us and we like penguins better than lions.
Timon: Calm Down Pat and lions will like you. Do you remember when Simba met a penguin named Eiso like when me and Pumbaa met a penguin named Irwin?".
Pat: Well, i don't know and we have to find out about Pimon.
Timon: You got it and you need a new lesson. Repeat after me, Ahem! Hakuna Matata.
Pat: Hakuna Matata? Come on and that for babys.
Stan: Well, it's means worries.
Pumbaa: Hakuna Matata. it means "no worries".
Stan: Oh, i heard of that on T.V.
Pat: Hakuna Matata means no worries?
Timon: Yes and come on everyone. We are going to find more grubs in the forest.
Stan: Grubs? What are these?
Timon: Well, i will show you when we get there.
Stan: Okay and that's fine.
Timon: Let's go everyone and it is time for lunch.
Pat: Alright.
Pumbaa: We're starving.
(When Timon, Pumbaa, Pat and Stan went to find grubs, meanwhile, Pimon was laying down after his defeat)
Pimon: Well.......Well...........Well....... Tee...Mon, I will.... stop you for reve........ge.
(Tumbaa was defeated by Pumbaa and now he went up to look for his friend Pimon)
Tumbaa: Huh? Where's everyone?
(Tumbaa begins walking to find Pimon and the screen changes again to a scene of Pimon)
Pimon: Tum.....Baa? Where........ are..........you.
(Pimon went up and his heath is now full)
Pimon: Tumbaa, where are you and we have to find Timon and his new friends.
Tumbaa: *arrives* Hi Pimon and where are we?
Pimon: We are at the Jungle Oasis and we have to stop Hakuna Matata.
Tumbaa: Oh and that's good. What can we do about it?
Pimon: Nothing and we have something to do.
Tumbaa: Okay and not a problem.
(When Pimon and Tumbaa left to find the heroes, Meanwhile at Hakuna Forest, Timon, Pumbaa, Pat and Stan went to find more grubs as Timon was looking for the bag)
Timon: Hm....... this is interesting and we have to find 20 grubs that are lost.
Pat: Can you think what they are?
Timon: Well, these are bugs as they give you gas. Do you remember when Simba was a cub and eat a red worm-like bug? He said that it's taste good and what do you think guys?
Pat: It's heathy.
Stan: It's wonderful and made you sick?
Pumbaa: WRONG! It taste good and we LOVE GRUBS!
Timon (while looking): Well, it's cool and- Wait. What did i just saw? *look at a bag* THE BAG! WE FOUND IT
Pat: Alright and we did it.
(Timon, Pumbaa, Pat and Stan walk to find the bag of grubs and the screen changes to a tree with grubs in a bag)
Timon: Well guys, it's time to eat and- WHAT? The Bag is EMPTY!
Pumbaa: There gone for sure and thanks to Pimon for stealing it. Now we have to start all over again to the begining of the story.
Stan: *looks at Pumbaa* It is the begining of the story and we just arrive here from Professor Chi-Chi.
Pumbaa: Oh. We are lost now and we are stuck around here.
Timon: *get angry* Great. NOW WHAT HAVE YOU DONE PUMBAA! WE ARE GOING TO LEAVE HAKUNA MATATA AND NEVER COME BACK HERE AGAIN!
Pumbaa: What?
Pat: It's not his choice.
Timon: WE ARE ALSO STAYING IN PRIDE ROCK!
Pumbaa: But Pat and Stan never heard of Pride Rock.
Pat: It's stupid. There is no way that a god lead a pride of rocks.
Stan: Anyways, the battle is on at Pride Rock and we have to get there before Scar take over the whole land.
Timon: What? We already defeated Scar and his pride. Simba is now the new king of Pride Rock after him and Mufasa.
Stan: You know it as a fake? NOW GIVE ME THE CLUE OR WE LEAVE HAKUNA MATATA FOREVER!
Timon: Guys, it's not my fault and everything is no worries.
Pat: Oh. No worries! Hakuna Matata.
Stan: Shut up Pat.
(While the screen moves back when Timon and his friends complain, Pimon and Tumbaa have arrive at Hakuna Forest)
Pimon: Well Tumbaa, we have arrive to stop Timon and his friends.
Tumbaa: Well, we are going to trick Pat and Stan along with Timon and Pumbaa again. *Pimon: Well, we lost the grubs from them. The only thing is we are going take over Timon's Meerkat Colony as my good plan.
Tumbaa: Well, the end is near and HAHAHAHAHAHAHAHAHAHA!!
Pimon and Tumbaa: *laugh evily* HAHAHAHAHAHAHAHAHAHAHAHAHAHAHAHAHAHA!!!
TO BE CONTINUED
Next: Timon and Pumbaa meets Pat & Stan (Chapter 6)
Community content is available under
CC-BY-SA
unless otherwise noted.