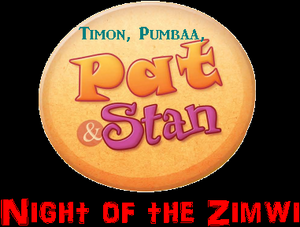 Timon, Pumbaa, Pat and Stan: Night of the Zimwi is a Halloween fanfiction special based on the Timon and Pumbaa meets Pat & Stan written by MarioFan65. This story is a crossover of the Lion King series with characters of Timon and Pumbaa and the Pat and Stan series. The story take place after the events of Timon and Pumbaa meets Pat & Stan 2. The holiday special was released on October 1, 2018.
Characters
Timon
Pumbaa
Pat
Stan
Ma
Uncle Max
Simba
Pimon and Tumbaa (bedtime story)
Brutox (bedtime story)
Rafiki
Professor Chi-Chi
Stephanie (mentioned)
Chapters
Trivia
This episode is loosely based on The Lion Guard episode Beware the Zimwi.
Community content is available under
CC-BY-SA
unless otherwise noted.