చҽӀçօʍҽ էօ
TᕼE ᒪIOᑎ KIᑎG ᖴᗩᑎOᑎ ᗯIKI!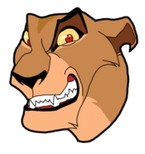 Welcome to "The Lion King Fanon Wiki", the number 1 place to post your original characters and fanfictions related to Disney's The Lion King!


Please do not edit pages that weren't started by you; instead, create your own!


Pages that discuss canon matters (like animal and canon) are free to edit.
Need help? Some advice? File a complaint? Look no further! At The Forums you can ask your questions or just to say "hi" to the community.


...
What, no response..? Then don't hesitate to approach one of the Wiki's admins on their Talk Page with your questions.



You can also communicate live in The Pride Lands Chat Room, as long there are users in there to answer your calls, of course. But worry not, on The Lion King Fanon, there's always a lion to turn to!
W..What more do you want? Get going! Check out the rules page before you get started, and the activity of our wiki (or by clicking "Wiki Activity" in the Explore section of the header) to learn what's going on around the place.

While you're at it, support each other by leaving behind a couple of nice comments on their pages. Maybe a bit of advice?
But no fighting over fictional characters, please, we're all Lion King fans here.



Thank you!
~ The Lion King Fanon Wiki Staff.
We currently have 13,876 pages written by fans!
You're welcome to contribute and add your own piece of fiction, just please obey the rules!

• Community • Characters
ᑌSEᖇ Oᖴ TᕼE ᗰOᑎTᕼ
"Princess ava15"
🎉 has been selected as user of the month! Congratulations! 🥳
ᖴEᗩTᑌᖇEᗪ ᗩᑎIᗰᗩᒪ
The Warthog
---
Warthogs are wild pigs that make an appearance in The Lion King franchise; the best known example being Pumbaa!

They're characterized by their tusks and the species can only be found in South Africa. Male adults tend to live alone, while females and their young stick together.
To see what next month's featured animal will be, check out Animals of the Month.
Community content is available under
CC-BY-SA
unless otherwise noted.